I haven't written on this blog in forever. I don't consider myself a writer. My mother is a formidable writer. It's really not my thing.
For someone who is a talker, I do a remarkably bad job expressing myself well. I also don't think that most people will find what I say interesting – that's not me hanging myself on the cross, just an observation. Most blogs seem to offer some profound insight and/or helpful advice on things. This is me just rambling, but I feel very drawn to writing this. Even if no one reads it, these words need to be said.
As most of you know, I had a little scare in February. The truth is I hadn't been doing well for some time – mentally or physically. After going to the ER and being told that I just needed to calm down and it was all in my head AGAIN, they found a large growth on my thyroid. This growth was unlike most – it grew down in my chest instead of out in my neck -, and it was both pressing my trachea against my ribs and wrapping around my vocal chords.
I thought I was just getting old, letting myself go, and losing my voice and breath support. I also at times thought I was losing my mind with depression and panic attacks that just wouldn't go.
After the most hellish beginning of the year, which included this scare as well as a huge betrayal by some people I considered my friends, I think I'm finally getting the messages the universe is trying to send me. One of the big ones is to get rid of toxic people and relationships, and I have already started on that. That's a whole other post, and it's going to be an ongoing battle.
The one that's ringing true this week started when I was speaking to some new friends (who I am VERY fortunate to have met – you know who you are) the other night about how when I don't perform in some outlet – whether it be playing the piano at 3 AM in my house, being on stage, singing a song to some veterans, etc. – I feel like a part of me is missing.
Tonight I saw "Jersey Boys". First of all, it's wonderful music that I grew up with (Mom and Dad's station), but a few things really resounded with me. First and foremost, there's the fact that after suffering a severe loss and being as low as he could possibly get, it was the music that finally brought Frankie Valli back to life. Second, it's when he is asked when the best times were. His reply? When they were just 4 guys under a lamppost discovering their sound and making some beautiful music.
That's really what it's about, folks. Do I want to get paid as a performer? Absolutely. Do I deserve to get paid? You bet. I have the training, the talent, the experience, etc., but at what point does it just become about the art?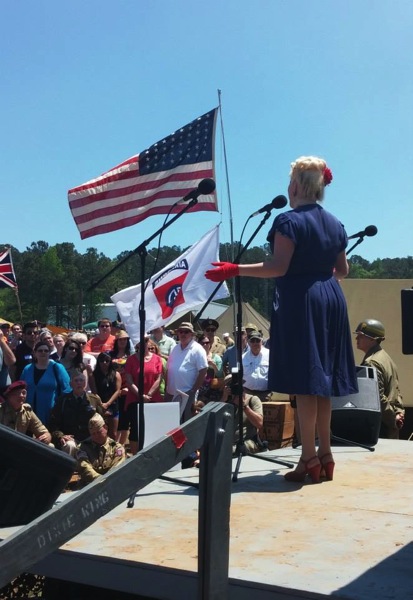 In April, a month after my surgery and when I had been told I might never sing again, I was singing "White Cliffs of Dover" in front of several hundred people, including veterans at the Dixie Wing's annual WWII Days. Was it my best performance? No, but it was quite possibly the most beautiful 4 minutes in my life.
That, along with singing "More Than A Name on the Wall" at 40 Years Later: A Heroes' Homecoming (a "welcome home" event for Vietnam veterans I helped put together in 2013) are the two most bittersweet, beautiful moments of my life. Was I paid for either? Nope.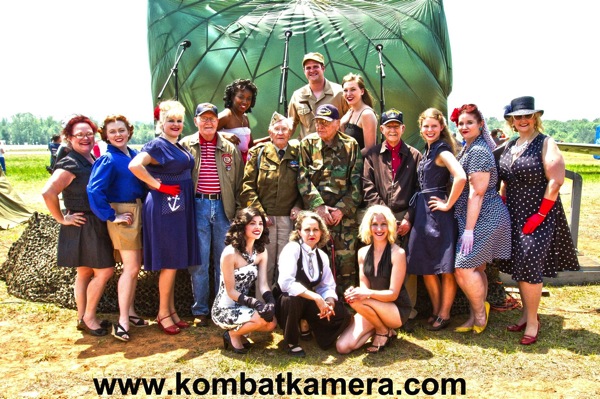 I also had an amazing talented cast packed full of professional entertainers who stepped up and put on the best camp show I think we've ever had. Not only that, but they danced with the veterans, they got teared up when they spoke to them, they GOT IT. And most of them will be back next year with bells on. Thank you.
I'm fortunate that I do often get paid to travel the country and do this. It's the best job in the world. However, when all is said and done, it's not about the money. It's not about being paid. It's about art. It's about being a part of something truly beautiful. It's about the tears in those veterans' eyes. It's about the tears in mine when I heard a voice come out that I was convinced I'd never hear again. It's about sharing the stage with the most talented people I know.
For 8 years, I was Artistic Director of The Twilight Theatre. It was both a wonderful and exhausting time. Each of those years I directed and/or music directed 4+ shows (most with Twilight, some with other theatres). Truth be told, there were times I really resented it. It's hard to sit in the audience when your soul is on the stage and in the music, and at times I thought I was giving up the best performing years of my life.
I know I was a very tough director and probably didn't inspire a lot of love in some of my cast members. It's because I take all of this very seriously. The theatre, the music – it's my religion. I hope I gave those cast members the experience I'm talking about – the true joy and freedom that comes from being a part of something beautiful.
This is all to say that I'm going to make this an important part of my life again. I have to. It's better than any medicine I can take. When you're an artist – a true artist -, your art is just as important as breathing. If you're not pursuing it in one fashion or another, a piece of your soul is missing.
I'm going to take any chance I can to perform, and yes, I'm going to get paid, but I'm not going to be above doing some things for the pure joy of it. I have some things in the works, and as usual I have a ton of ideas. It's time for me to get off my butt and get back to it. I hope a lot of you will be a part of this journey in one way or another, and I thank you in advance for your encouragement and help as I start over, mend some old scars, and find my voice again.
Thanks for "listening".