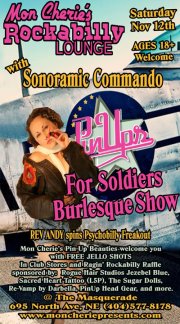 I am proud to be a member of PinUps for Soldiers, a nonprofit group that provides care packages for active duty military. Currently, we have committed to providing 800 Christmas stockings filled with goodies for soldiers in Afghanistan.

It's amazing how quickly just $2 can add up. If all of my Facebook and Twitter friends donate $2 to the cause, we will raise over $2,400. To make your $2 – or more! – contribution, go to our Facebook page and click on "Donate". There is also a shop if you'd like to buy merchandise. (I'm not in the calendar this year, but hopefully will be next year!)

We are also collecting stockings and items for the stockings, so if you prefer to donate items instead of or in addition to money, there is a list online of what we need. You can bring them to me by noon on Saturday, 11/12 or mail them to

PINUPS FOR SOLDIERS
P.O. BOX 3040
LOGANVILLE, GA 30052

And/or you can come see us at our Veteran's Day event Saturday night at the Masquerade – Mon Cherie's Rockabilly Lounge – Pinups for Soldiers Burlesque Show

Be sure to let me know when you make a donation because I want to brag on you and thank you myself. Thank you for supporting such a wonderful cause!

For more information about the group, you can go to our website.